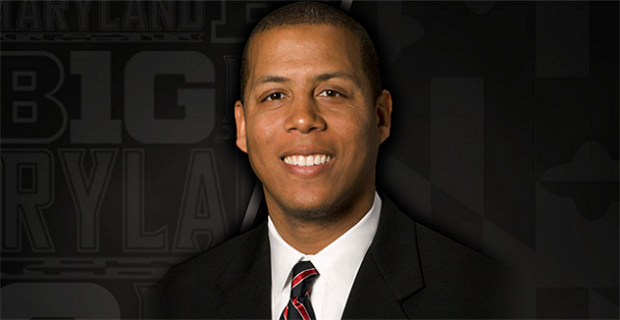 Maryland is expected to name Damon Evans as athletic director, multiple sources told IMS. The school will soon announce the hiring of Evans, who's served as acting athletic director since Kevin Anderson went on sabbatical last fall. He continued in that role following Anderson's departure in mid-April and was one of three finalists in the school's subsequent search, along with Temple's Patrick Kraft and former Tennessee A.D. John Currie.
Evans, 48, who came to Maryland as chief financial officer in Nov. 2014, officially takes the lead in the department during a time of unease. Maryland is investigating the death of football player Jordan McNair earlier this month, and head basketball coach Mark Turgeon's entering a crucial season after missing the postseason last year and losing standout guard Kevin Huerter to the NBA.
UPDATE: Maryland announced Evans' hiring early this afternoon in a press release.
"Throughout his tenure here, Damon has demonstrated visionary, transparent, compassionate and ethical leadership," Maryland President Wallace D. Loh said in the release. "The candidates invited for interviews had impressive credentials and accomplishments. In the end, a senior leadership search is not only about capabilities. It is also about institutional fit and interpersonal trust and chemistry. In Damon, the University? of Maryland? has the right person at the right time."
In April, Maryland hired search firm at the cost of more than $100,000 to help find its next A.D., and named an in-house committee to oversee the process of replacing Anderson, with Loh proclaiming it an open search.
"A national search means that we seek and consider all qualified candidates," Loh said at the same in a letter to boosters. "A confidential search means that we secure the privacy of all candidates. The only candidate who will be identified publicly is the one named as the new Athletic Director."
But among program insiders, it was an open secret Loh preferred Evans.
(What's the next big story at Maryland? Before you finish reading, take five seconds NOW to sign up for our FREE Terps newsletter. We'll deliver the latest big news to you!)
"It is a great honor to be chosen to lead at the University of Maryland," Evans said in the release. "Since the day I arrived, I have been inspired by the student-athletes, coaches and support team that strive for success in Maryland Athletics, and I look forward to many successes ahead in our Big Ten era. I'm guided by the principle that we learn from our wins and losses, and I am eager to lead an athletics department that ultimately achieves greatness together."
Evans' hiring comes more than eight months after the informal departure of Anderson. Loh intended to fire him last fall after a falling out between the two, sources said, but the two eventually settled on Anderson taking a six-month "professional sabbatical." Anderson oversaw the hiring of two football coaches, Randy Edsall and DJ Durkin, as well as head basketball coach Mark Turgeon, is now the interim A.D. at Cal-State Northridge.
Maryland will introduce Evans in a press conference Tuesday. Below is the remainder of the press release:
Over the past four years, Damon revamped the athletics budget and financial operations, resulting in an operating surplus. Evans was appointed as the liaison to lead the new Cole Field House project, a bold facility that will unite vital programs in sports medicine, public health, athletics training and academic innovation. Additionally, he was the driving force behind the department's new multimedia rights agreement with the Washington, DC and Baltimore media markets that increased the department's revenue by more than $30 million.

During Evans' tenure overseeing day-to-day operations of the athletics department, the Terrapins have had three teams advance to the Final Four and have secured three Big Ten Championships. In that time, the Terrapins have also boasted 26 All-American student-athletes, eight Big Ten Players of the Year, three Big Ten Coaches of the Year and 42 All-Big Ten Honorees.

Evans has shown his commitment to the academic success of Maryland student-athletes, strengthening the relationship between the athletics department and the academic units of the university. Evans notably oversaw a $21.25 million gift from Barry and Mary Gossett to establish an innovative, three-part support model for the academic success of student-athletes, the Barry and Mary Gossett Center for Academic and Personal Excellence. While Evans has led at Maryland, Terrapin student-athletes have had 151 All-Big Ten Academic Honorees, and nine programs earned perfect single-year Academic Progress Rates, while the football team turned in its best score (.981) since 2003.

Prior to Maryland, Evans served as the director of athletics at the University of Georgia from 2004-10, where he managed a program with 600 student-athletes, an $85 million budget and a staff of 250. The Bulldogs won 13 national championships and 19 SEC titles during Evans' tenure. Under Evans' guidance, Georgia annually finished in the top 10 in the Learfield Director's Cup and also amassed $65 million for the athletic department's reserve fund, an increase of over $56 million in just a six-year period. Student-athletes achieved the highest-ever graduation success rate at Georgia in his final year as director of athletics.

Evans' roles before Maryland also included managing partner at Evolution Sports Partners in New Jersey, vice president of fundraising at IMG College in Winston-Salem, N.C., and vice president of business development at the Markley Group in Boston.

He earned a bachelor's degree in finance in 1992 and a master's degree of education in sports management in 1994, both from the University of Georgia, where he was also a four-year starter on the football team.

Evans takes the helm as the Maryland Terrapins continue to mourn the recent loss of a student-athlete, which has prompted a university-issued external review. The review, which will look at all policies and protocols, could take up to 90 days.