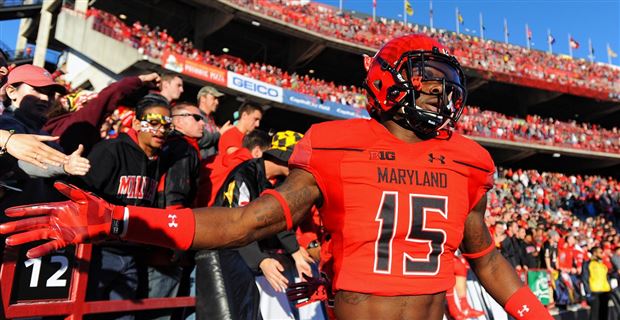 Linebacker Melvin Keihn has left the Maryland football program, sources with knowledge of his departure told IMS.
Update: Keihn confirmed his departure, saying he'll transfer and play at another school that offers a specific Master's program Maryland doesn't offer.
"The Master's I wanted to do, I can't do at Maryland. So the goal is to get as much of that paid for as possible," he said.
Keihn, a fifth-year senior, will likely transfer elsewhere in search of a larger role after playing sparingly lasts season, when he recorded six tackles in 12 games. A former four-star recruit from Baltimore power Gilman School, Keihn became a national story last season when BTN and ESPN aired heart-touching feature stories about his reunion with his mother in war-torn Liberia after 14 years apart. ESPN's tear-inducing story won a Sports Emmy for Outstanding Short Feature.
"Once I got there, I saw my mom, sisters and brother, nephews and nieces, and my uncles, and it was amazing," Keihn said in 2017. "That was the first feeling, just that joy of being back in my country."
Keihn (pronounced 'CANE') began his college career at Virginia Tech, which he chose over a long list of BCS programs as a high school senior. He transferred to Maryland after his freshman season, redshirted the following year per NCAA transfer rules and saw limited action as a backup linebacker the following two seasons. His best game came against Penn State as a redshirt sophomore, when he recorded eight tackles. He appeared in 10 games that season, finishing with 24 tackles and two tackles for loss. Keihn graduated this spring with a degree in family science, so he can join another program as a graduate transfer without sitting out next season.
Listed at 6-foot-1 and 211 pounds, his size limited his ability to play on the inside and he might not have been athletic enough to play outside. Still, his story made him a fan favorite both at Maryland and nationally after the ESPN feature aired. From a Baltimore Sun feature story in July 2017:
He didn't remember kids having to do labor or the tendency for people to go to the bathroom in the streets. The big tree that used to hang over his mom's mud house was gone, and the ceiling and walls leaked during the current rainy season.

Such disparity from his life at Maryland left Keihn "more hungry to be successful than I ever have been."

"He was burdened with a heightened sense of responsibility," said former Gilman coach Biff Poggi, whose family housed and supported Keihn in high school. "This is going to impact the rest of his life."

With two more seasons of eligibility, Keihn plans to graduate next spring with a degree in family science, hoping to become a counselor for kids or people who've experienced traumatic events — unless he gets a chance in the NFL.

He wants to provide his mom safety and less grueling work in America.

"That is his No. 1 priority right now," his dad, Bainda, said. "He said he's going to work harder than ever to make sure that happens."