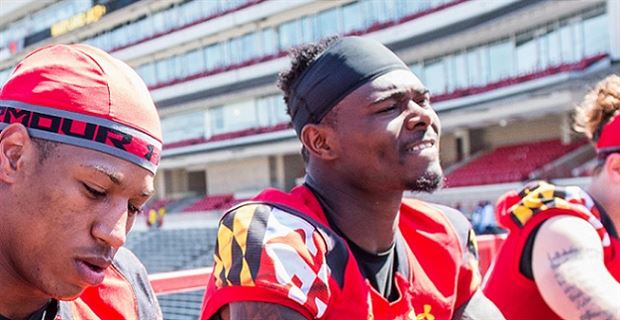 Former Maryland defensive end/linebacker Melvin Keihn -- who announced his plans to transfer Monday -- will enroll in a graduate program at Richmond and play for the Spiders' football team, he told The Baltimore Sun.
According to Keihn's former high school coach Biff Poggi, the 22-year-old Liberian -- whose heart-warming trip to return to his home country to see his mother for the first time more than a decade became a national story last year -- wants to get his master's degree as quickly as possible so he can enter the workforce and support his girlfriend and their first child, due later this month.
"It's not really much about football," Keihn told the Sun Monday night. "My point is, football is not going to last forever, and if I can't do that, then I need to be able to get a job where I can take care of my son and support my family. That's why I decided to go on this path. … I made a grown-man decision. I had to. It's not going to be about me no more. It never was. It's definitely not about me right now."
Keihn, who graduated with a degree in public health and plans to pursue a career in counseling, human resources or child care, didn't have a high enough GPA to be accepted into the graduate program of his choice at Maryland, Poggi said, and Richmond's program is only one year long as opposed to two, which better fit Keihn's now-accelerated timeline into the real world.
Keihn made it clear that his decision to transfer had nothing to do with the passing of Jordan McNair, who he had known since elementary school. He didn't want it to seem like he was leaving the rest of his teammates behind.
(What's the next big story at Maryland? Before you finish reading, take five seconds NOW to sign up for our FREE Terps newsletter. We'll deliver the latest big news to you!)
"That's something me and my family talked about," Keihn said. "Sometimes you've got to make tough decisions. Leaving was one of those hard decisions with everything going on with Jordan and his family and our team. … My teammates understand that making sure I had more education to fall back on was very important to me. They know that I'm not leaving because of what happened to Jordan."
Poggi, one of the highest-profile high school coaches in Maryland, formerly at Gilman and now St. Frances, said he had no problem with the way Keihn's career played out under Terps coach DJ Durkin. Keihn saw his role lessen during his final season with the Terps, totaling just six tackles after he notched a career-high 23 tackles as a part-time starter the year before.
"Melvin was never going to be a three-down player on defense," Poggi told The Sun. "He was going to be a third-down, second-and-long guy to go to the passer, and that's what he was and those guys are incredibly valuable. When you asked him to get into coverage and things like that, he doesn't have that skill set. And if you ask him to play the run, he's too small."
"People really love him," Poggi added. "People at Maryland really like him and he likes them a lot."