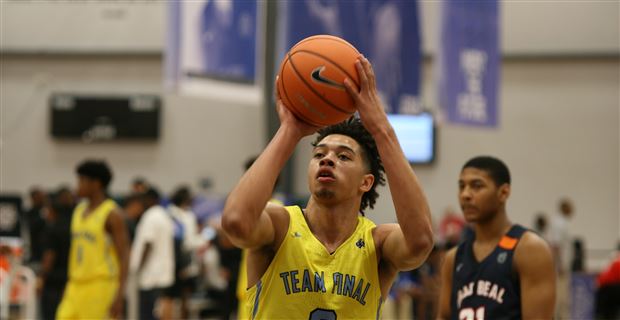 While Maryland announced Friday that it had received two separate FBI subpoenas related to the bureau's investigation into corruption in college basketball recruiting, the Terps' staff hasn't slowed in its pursuit of top high school recruits. In fact, a four-star rising senior reportedly plans to take an unofficial visit to Maryland next month following the conclusion of the July Live Period.
According to a report from Jake Weingarten, Roman Catholic (Pa.) wing Seth Lundy plans to take trips to Maryland, Oregon, Louisville, Virginia Tech and Florida in August, five schools that have consistently made him a priority. Lundy has yet claim an offer from the Terps, but the nation's 109th-ranked prospect according to the 247Sports Composite has been on their radar for several months.
Beginning next week, Mark Turgeon and his staff will have the opportunity to evaluate Lundy in person for three consecutive weekends. After playing in the Under Armour Association with Philly Pride last year, the 6-foot-6 small forward joined Team Final (Pa.) of the EYBL circuit this spring, where he averaged 13.1 points, 5.1 rebounds and 1.6 assists per game.
Lundy has an opportunity to improve his numbers this month if he shoots the way he believes he's capable of. More than half of his field goal attempts came from three during the EYBL regular season, but he connected on just 28.7 percent of them. When his jumper isn't falling, he has other tools to fall back on.
Here's what 247Sports national recruiting analyst Brian Snow wrote about Lundy in April:
Another tough forward, Lundy also has some skill. Right now he remains at his best attacking from the wing off the dribble and finishing through contact, but his shot is also coming along. Also Lundy is a pretty good athlete who looks like he can guard multiple positions. Team Final had a tough evening, but Lundy was a clear bright spot with his play.
Maryland is also recruiting Lundy's AAU and high school teammate, class of 2020 point guard Lynn Greer. It's not the first time the Terps have recruited a pair of Roman Catholic and Team Final teammates, though: Tony Carr and Lamar Stevens, who both ended up at Penn State, were also Terp targets.
Lundy, for the record, has already visited Penn State, UConn, Temple and St. Joe's. He holds offers from Penn State, Virginia Tech, Marquette, Louisville, Oregon, UConn, VCU, Ole Miss, Florida, Temple, Bowling Green and La Salle.
"I feel like [I want] a school that's going to be able to let me come off screens and shoot, and will let me put the ball on the ground," he told Philly.com in February. "Defending is No. 1 for me, I'm a defender, so if I've got four other guys on the court that's willing to do whatever, give anything up for their brothers, that's definitely a fit for me."