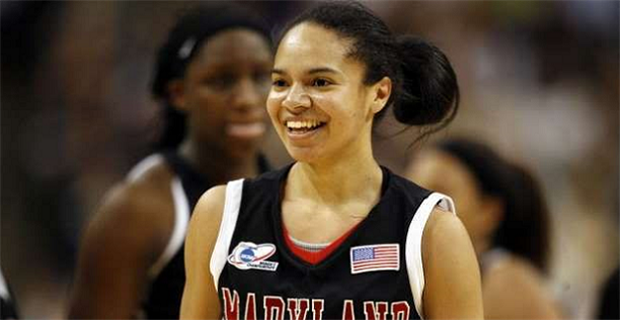 Former Maryland point guard Kristi Toliver wants to enter coaching following the end of her playing career but her dreams go beyond leading her alma mater or even a WNBA team.
That's why she was in Las Vegas Sunday night, hours after playing the second night of a back-to-back, preparing for her second job. In addition to starting at point guard for the Washington Mystics, Toliver moonlights as an assistant coach for the Washington Wizards summer league team, which beat the Philadelphia 76ers Monday night with the 10-year WNBA veteran on the bench.
.@KristiToliver adding to her resume, coaching with the @WashWizards for Summer League!

(Let's add 2018 All-Star too! #WNBAVote)#TogetherDC #DCFamily #WizSummer pic.twitter.com/hD5HIpwQtX

— Washington Mystics (@WashMystics) July 9, 2018
Toliver told reporters afterwards that she wants to coach in the NBA in the not-so-immediate future.
"I'm still in my prime time of playing but you've always got to look at the next thing. Basketball is my love and my passion so I just want to stay connected to the game in any way that I can and I think coaching is a way to do that," she said. "The NBA is my passion. I love it. So hopefully I can find a way to get involved."
Toliver's father is an NBA ref, so she's been around the game most of her life, and she's won NCAA, WNBA and EuroLeague championships as a player. She was invited to work with the Wizards during the team's minicamp prior to summer league by Ryan Richman, and now is trying to maintain a hectic schedule which currently means preparing for the Mystics' game against the Atlanta Dream Wednesday. The 31-year-old is averaging 14 points and four assists per game for the playoff-bound Mystics, so for now her work with the Wizards is merely for experience.
"I'm just kind of getting my feet wet on this side of the line. It's exciting. I think I really enjoy it," said Toliver, who played 36 minutes and scored 18 points Sunday against the Seattle Storm before taking a red-eye flight to Vegas. "I've kind of had the idea of wanting to coach pros, obviously never worked with men before but these guys have been great. They've really kind of embraced me and supported me through this process and hopefully this will be one of many games for me."
Never stop learning about this game! ??@KristiToliver used her off day with the @WashMystics to head to @NBASummerLeague & join the @WashWizards coaching staff for a day. #WatchMeWork pic.twitter.com/b070aNsBwb

— WNBA (@WNBA) July 10, 2018
Only two women -- Becky Hammon and Nancy Lieberman -- have served as NBA assistants. Hammon is currently with the San Antonio Spurs, while Lieberman was with the Sacramento Kings from 2005-06. Former Virginia guard Jenny Boucek is currently on the Kings' staff as a player development coach.
Among the players and coaches who have worked or played under Terps coach Brenda Frese includes current Wizards director of player development coach David Adkins, who was hired by Frese in 2009, the same year Toliver was selected third overall by the Chicago Sky in the WNBA Draft.