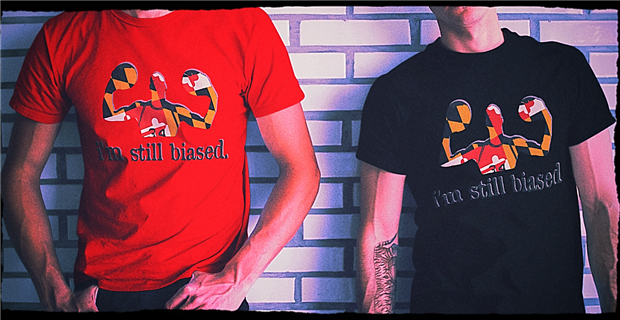 The discussion about the greatest NBA player of all-time has become increasingly popular as many experts believe LeBron James has a legitimate shot to dethrone Michael Jordan for the "G.O.A.T." title by the end of his career.
But before there was MJ versus LeBron, Jordan had another rival from his own era who helped feed his competitive fire during his college days. That, of course, was Maryland's Len Bias, who tragically passed away due to a cocaine overdose after the Boston Celtics selected him No. 2 overall in the 1986 NBA Draft. To this day, there's players who played against both Jordan and Bias in the ACC who insist Bias was better in college, including former Virginia star Olden Polynice, who told ESPN's Chris Broussard in May that Bias would've been better than Jordan on the biggest stage as well.
Polynice likened Bias to a "slimmer Lebron."
"I personally believe he would've superseded Mike," Polynice, a 15-year NBA veteran who had multiple battles with Jordan and Bias while playing at Virginia in the mid-1980s, said. "We wouldn't have heard about Michael Jordan as much. Mike probably would've become great, but [Bias] had the edge of Mike because he was a better shooter, he was a better athlete, he was bigger and stronger."
Polynice, who was one class behind Bias and two behind Jordan, only notched one win against the two iconic ACC legends. During his third and final year in college, Polynice's Cavaliers cruised to a 21-point home victory in 1986, only to lose to Bias and the Terps for the fifth time in the regular season finale six weeks later.
Polynice recalled taunting Bias after he blocked his shot during the first matchup in 1986, when Bias was a senior and on the verge on being named ACC Player of the Year for the second consecutive year. As Bias laid on the ground, Polynice shouted down at him before realizing his mistake.
"Oh lord," Polynice remembered thinking. "I woke up the beast."
"We won that game and then we went up to Maryland and, oh my lord, they destroyed us," Polynice continued. "He remembered that block and he came at me the whole game. He didn't say anything about it, he didn't have to. He showed me in his game. I was still learning basketball -- I didn't know I shouldn't have done that."
Polynice only faced Jordan twice in college, losing both times as a freshman. Jordan, who won ACC Player of the Year that year, then decided to forgo his final season with the Tar Heels to become the No. 2 overall pick in the 1984 NBA Draft. Two years later, Bias was set to join him in the league.
"[Bias] was a beast. I'm sorry to Jordan fans out there, but again, he would've done him," Polynice said.