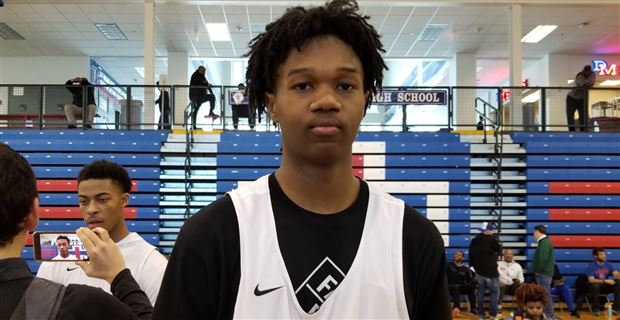 The last time 247Sports updated its class of 2020 rankings in March, Maryland had offered only five of the 13 local recruits in the top-100. The Terps' staff was selective when it came to who to prioritize early, and based on the newly updated 2020 rankings -- which came out Monday, they zeroed in a lot of the "correct" targets.
Seven of the locals without an offer from the last update -- Terrance Williams, Che Evans, Myles Stute, Ace Baldwin, Anthony Thomas, Chuck Harris and Ishmael Leggett -- either dropped nine or more spots in the rankings or fell out of the top-100 altogether. Meanwhile, Dimingus Stevens, the Terps' only local post-March offer, stayed put in the top-70, where he was joined by five other locals, all with Terp offers, including Woody Newton, who was unranked last update. The first three locals to receive offers -- Jeremy Roach, Isaiah Todd and Hunter Dickinson -- remain the only local five-stars, while Dickinson's high school teammate Earl Timberlake is within striking distance at No. 33.
The one local target who fell significantly was Justin Lewis, who was scouted by national analysts at the USA Basketball U17 Junior National Team training camp last month. The 6-foot-8 Baltimore forward dropped 36 spots, from No. 54 to No. 90, landing one spot ahead of Team Melo AAU teammate Evans. Paul VI (Va.) guard Josiah Freeman jumped over both of the top-100 mainstays, climbing from unranked to No. 87.
Outside of the local targets, Detroit forward Isaiah Jackson and North Carolina guard Jaden Springer both climbed into the top-30, while Philadelphia guard Lynn Greer and Cashius McNeilly remained in the top-40. One of the biggest risers was Albany's Andre Jackson, who climbed from outside the top-100 to No. 53. Jackson, a 6-foot-6 shooting guard, plays on Kevin Huerter's former AAU team.
College coaches were allowed to contact rising juniors midway through last month. Along with the names mentioned above, others recruits the staff have reached out to since then include Las Vegas point guard Daishen Nix, DC Premier guard Marcus Dockery, New York forward Zed Key and New York point guard R.J. Davis, who visited last month. Of those four players, only Nix is currently ranked.
The Terps' staff will hit the road for the July Live Periods next weekend, watching many of the aforementioned names in addition to identifying new targets.
Notable targets/local recruits ranking/previous ranking:
Jeremy Roach - 10 (13)
Isaiah Todd - 14 (5)
Isaiah Jackson -16 (57)
Jaden Springer - 24 (32)
Hunter Dickinson - 25 (17)
Earl Timberlake - 33 (29)
Lynn Greer - 36 (23)
Cashius McNeilly - 39 (38)
Jabri Abdur-Rahim - 48 (30)
Andre Jackson - 53 (120)
Justice Ajogbor - 55 (75)
Noah Farrakhan - 61 (62)
Woody Newton - 63 (N/A)
Dimingus Stevens - 66 (58)
Chuck Harris - 77 (68)
Josiah Freeman - 87 (NA)
Terrance Williams - 89 (60)
Justin Lewis - 90 (54)
Che Evans - 91 (38)
Myles Stute - 104 (94)
Darius Miles - 109 (NA)
Henry Coleman - 119 (82)
Adrian Baldwin - 124 (89)
Anthony Thomas - 125 (55)
Elijah Wood - 139 (N/A)
Ishmael Leggett - 162 (100)